SKYLAR HUGHES: WARM INTO THE DAY
8 JUNE - 27 JULY, 2019
Join us on Saturday 27th of July from 12-3 pm for an informal get together and book signing of Book Of Shapes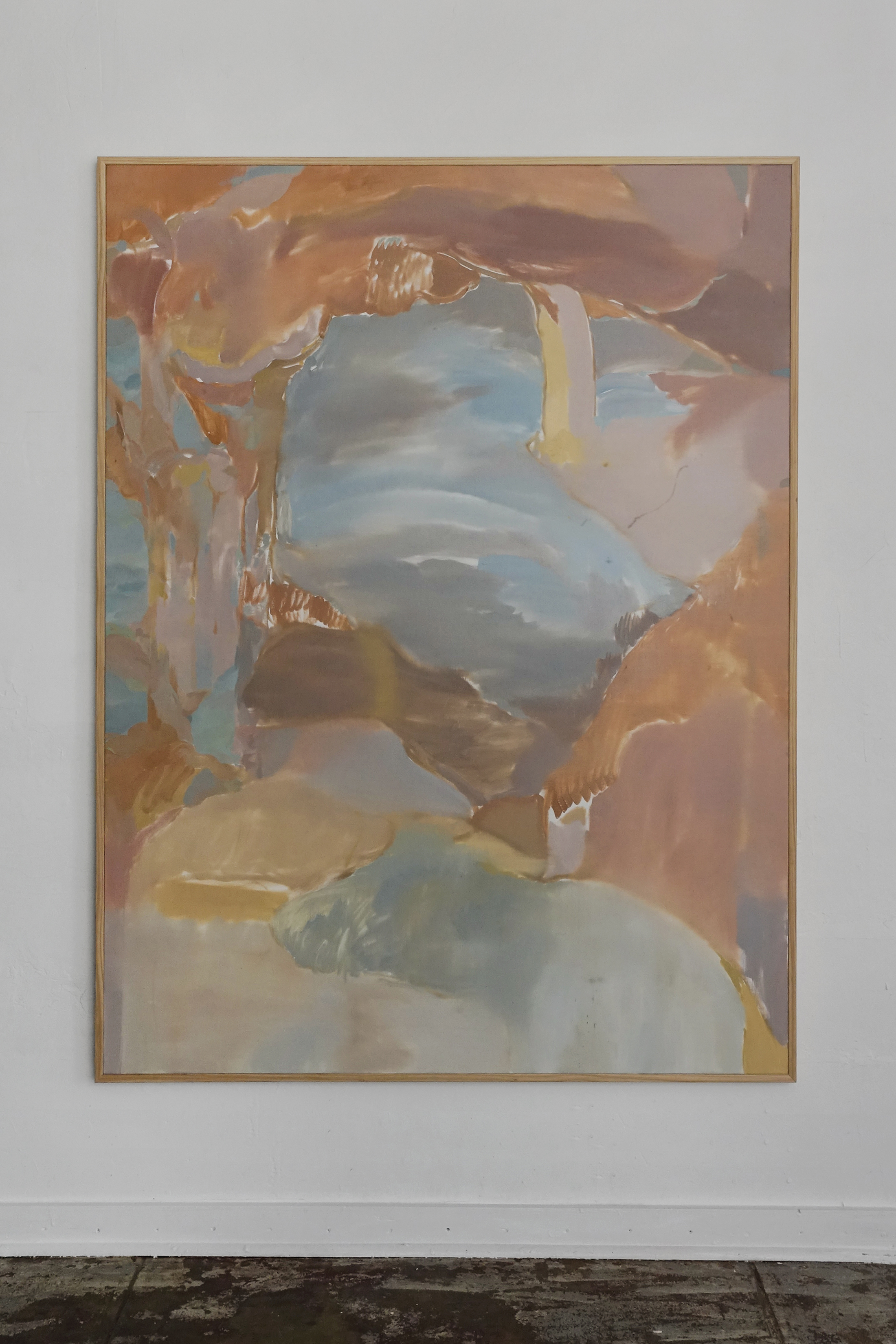 SKYLAR HUGHES: INTERVIEW IN CONVERSATION WITH ALICE LODGE

SH: I like the idea of the image emerged; that the painting is found through the painterly process. You do something to the surface of the canvas and respond to it. It's an interesting way to engage with painting because it lends itself to chance, it opens things up in a way that you couldn't have planned to. I put something down and see what happens, I follow the dictates of the image and the process guides me. It's an embrace of the unknown. This kind of painting is open to whatever one brings to it and gives space for whatever that might be. That goes for me and the viewer.
AL: Why painting?
SH: It's wide open and there's power in the image. I sometimes think its funny that of all the things a painting could be, this is what it is; this is the kind of painting I am doing. The beauty of it is in its possibility.
I am fascinated by light and color. As a painter, I consider them my tools.
I like the idea that a painting stays the same while we do not. We change and grow, we have experiences and are affected by them. We always bring something new to it.
I believe in the hand to human connection.
Alice: How does the work relate to one another?
Skylar: I've always worked in series because I believe the group can speak louder than the individual. It also allows for the expansion of ideas.
I usually have several paintings going at once and work on them all throughout the course of the day. When one is in a good spot, needs a rest, or has all but been wrecked, I move on. It gives the work continuity, a through-line.
Something new in this show is that each painting is worked on the wall. I move them around depending on the day's light or what might be brought out in one by having another next to it. I usually keep one that's "working" hanging out as a reminder that they can all get there too if I keep at it. I used to sit at an easel, but I've found that interacting with them from different distances activates and energizes the space between the surface and the viewer. The standing approach has opened up a new kind of space for the paintings to exist in.
AL: Where do you find inspiration?
SH: In the way the sun sinks like a stone at the end of the day and everything shifts. In the steady hum of the city. In music, on a walk, in moving through a landscape.
I find myself returning to Morandi and Marden often. I'm interested in what those guys are after and I love to look at them. I enjoy reading about Giotto and Cezanne and align myself with that painterly tradition. Courbet is always with me and I have a soft spot for Johns and Rauschenberg. My father gave me a great book on Twombly last year, I think some of what he was doing in terms of intuition and the "act" of painting comes through in this body of work.
AL: There are a few paintings titled in Italian, what is your connection to Italy?
SH: Well, I work with Italian wine and food, it's worked its way into my subconscious. I also had the good fortune of studying painting and art history in Italy when I was in school, a period that left a long-lasting mark on me. I returned last year on a work trip and made it into a kind-of artistic pilgrimage. I went to the Tomba Brion, a quiet masterpiece of modern architecture by Carlo Scarpa which blew my mind and changed a lot of things for me. I was really struck by a bronze cast of a melting candle on the architect's own grave, a sentiment I've always associated with art-making and living a life in general. From there we went to Giotto's Scrovegni Chapel and then down to the Morandi wing in the museum in Bologna that I never wanted to leave. I walked out of all of those places feeling new and energized, totally full of ideas, and like I had connected with some great line of tradition and art-making. Many of the paintings in this show nod to that whole experience.
On Naples:
I was working on a mural project this spring that ultimately fell through after a month of planning and a day of painting on the wall. I'm a believer that time spent thinking and working in one direction also goes into others, it becomes potential energy somewhere else. I think that whole mural process ended up going into this one, I see it in there well beyond color and form or feel. Naples is a show of faith in the long arc of labor.
ARTIST BIO
Skylar Hughes is an artist living and working in Los Angeles, CA. He earned a BFA from The Hartford Art School, CT in 2009. The artist's first major solo exhibition, "One Big Gust of Wind," was held at the New Britain Museum of American Art, CT in 2013. Skylar has participated in solo and group shows in CT, NY, and CA and has work in numerous public and private collections. We're All Stone Raising, was the artist's first exhibition with The LODGE.
Below is a short interview with Skylar Hughes regarding his paintings for the show at The Lodge June 8th - July 27th 2019
I am interested in painting as the representation of our relationship to and experience of nature. The landscape tradition serves as a ground for loosely representational imagery and abstraction that acts not as a view of a place, but rather the feeling, memory, or dream of one.
As a painter, I acknowledge nature and the painterly process as guides. Varied approaches to the surface emphasize the creative effort. There is belief in both the long arc of labor and the immediate ease of the image emerged; there is acceptance in things working in waves.
Summer's ease,
Fall's hanging on,
Winter's quiet blur,
Spring's longing.
Suggestion of natural motifs signify both the permanence and temporality of nature's imprint: mineral and stone, light and wind, branch and bone - a solid sphere that changes. Through series and in the spirit of modernism's frankness of construction, the work points towards art making as the embodiment of this process of chance, change, and growth. Out of this natural course, the work acts as a marker of the significance of this moment as a point on a changing line.
Painting is an embrace of the unknown through belief in the human connection, a celebration of life as it is lived: fast and slow, easy and complicated, hesitant and certain, forgotten and remembered.