DEBORAH BROWN
dirt's the only animal who will sleep with you
On view 14th SEPTEMBER - 26 OCTOBER, 2019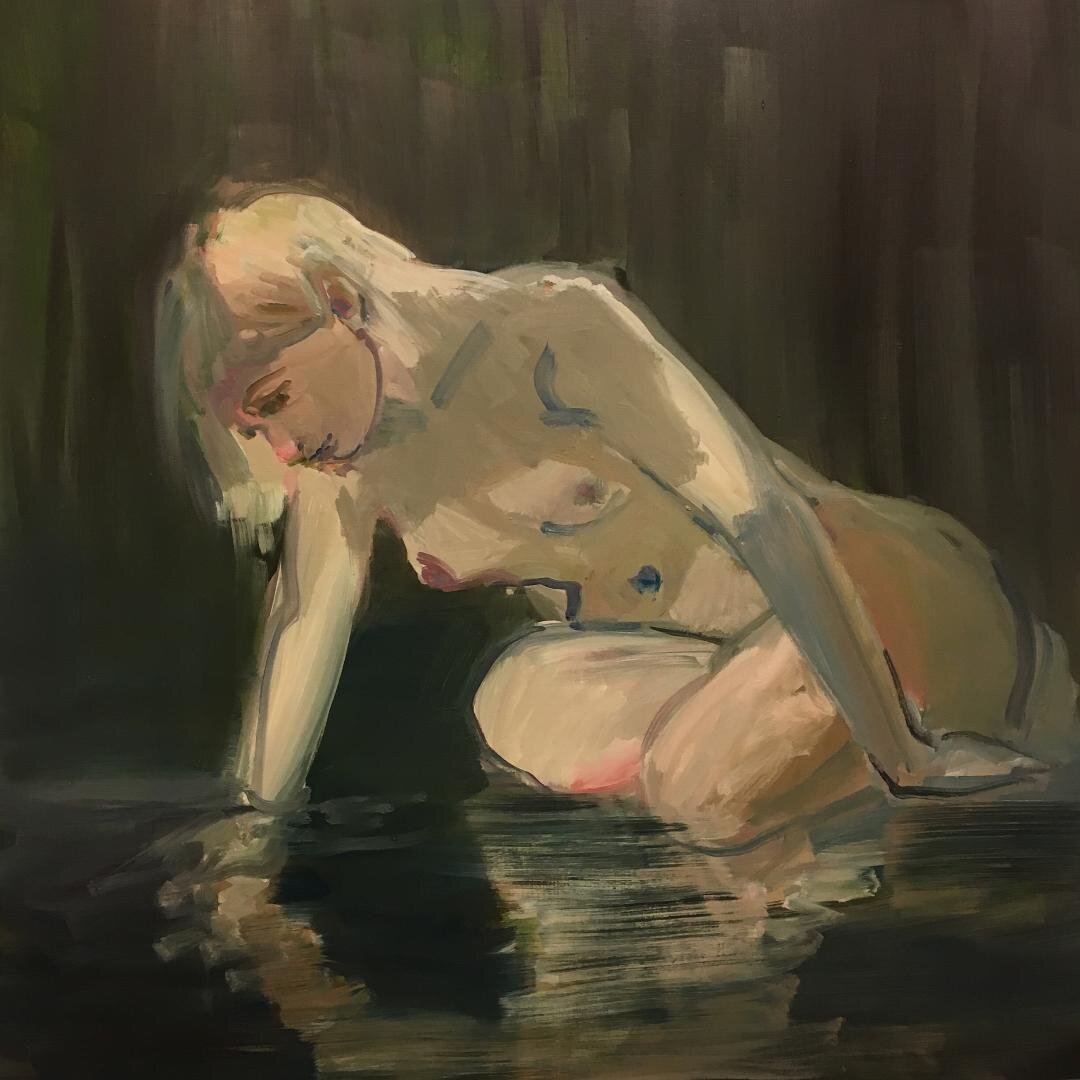 "Danae and Zeus", 2018, Oil on canvas, 70 x 80 in.
We are pleased to present Deborah Brown's first solo exhibition at The Lodge
"dirt's the only animal who will sleep with you" *
Opening reception: Saturday 14th September from 6 - 9pm
On view 14th September - 26th October, 2019.
PRESS RELEASE
Deborah Brown's paintings begin in her imagination and explore her own personal truth. Women, stripped of their protective and identifying clothing, navigate familiar landscapes as if in a dream. Their nudity makes them seem simultaneously vulnerable and powerful, as if they have returned to elemental or archaic origins. The female protagonists occupy a variety of spaces—walking on an ominous beach, journeying through the forest, paddling canoes--far from the quotidian activities of civilization. The presence of canine companions implies a departure or exile from a domestic setting, as well as an unseen threat that might require their protective services.
The compositions and their implied narratives sometimes suggest contemporary re-enactments of myths from antiquity and the Bible commonly found in the canon of Western Art. The artist's decision to remove the male characters implies a new gender order in which the female characters appear unrestricted by assumptions of female vulnerability and dependence on male figures for their legitimacy. Brown revisits themes explored by male artists, subverting expectations and readings of familiar Western images while changing the dynamic of the male gaze.
The paintings are composed of vigorous brushwork punctuated by linear passages and off-register color patches, a fractured, brooding landscape that mirrors the psyche and consciousness of the protagonist. In her practice, the artist tries to suspend intellectual control over her characters' depiction so that the images might result from the painting process itself to create unexpected but desired resonances. Through their picaresque spirit, the paintings channel myths, fairy tales and contemporary science fiction to tell a story whose meaning is mysterious and which must be unraveled by the viewer. The paintings channel feelings of abjection, strength and freedom, offering a subtext of feminine empowerment and artistic discovery.

* from Aracelis Girmay poem - Kingdom Animalia

BIO
Deborah Brown lives in New York and works in Bushwick, Brooklyn, a neighborhood she helped pioneer as an artist and where she started Storefront, one of the first artist-run galleries in the neighborhood. Brown has a BA from Yale University and an MFA from Indiana University.
Recent exhibitions include: Burning in Water, New York; The Lodge, Los Angeles; Freight + Volume, New York; Underdonk, Brooklyn; Spoonbill Studio, Brooklyn; Castor Gallery, New York; GEARY Contemporary, New York; Lesley Heller Gallery, New York; Mike Weiss Gallery, New York; BravinLee programs, New York; Galleri Christoffer Egelund, Copenhagen; and Angell Gallery, Toronto. Her work is in numerous private, museum and corporate collections and has been written about in The New York Times, The New Yorker, Art Forum, Art in America, The Wall Street Journal, ARTnews, Artnet, Madame Figaro, Hyperallergic and ART-Das Kuntsmagazin.
Brown has been a visiting artist and lecturer at Penn State University, Hunter College, Pace University, Columbia University, Maryland Institute College of Art and Art Omi. Brown was also a tenured professor at Carleton College in Minnesota where she taught painting and drawing, and subsequently taught in The Art Department of Yale summer program.