SKYLAR HUGHES WE'RE ALL STONE RAISING

4TH JUNE - 16TH JULY, 2016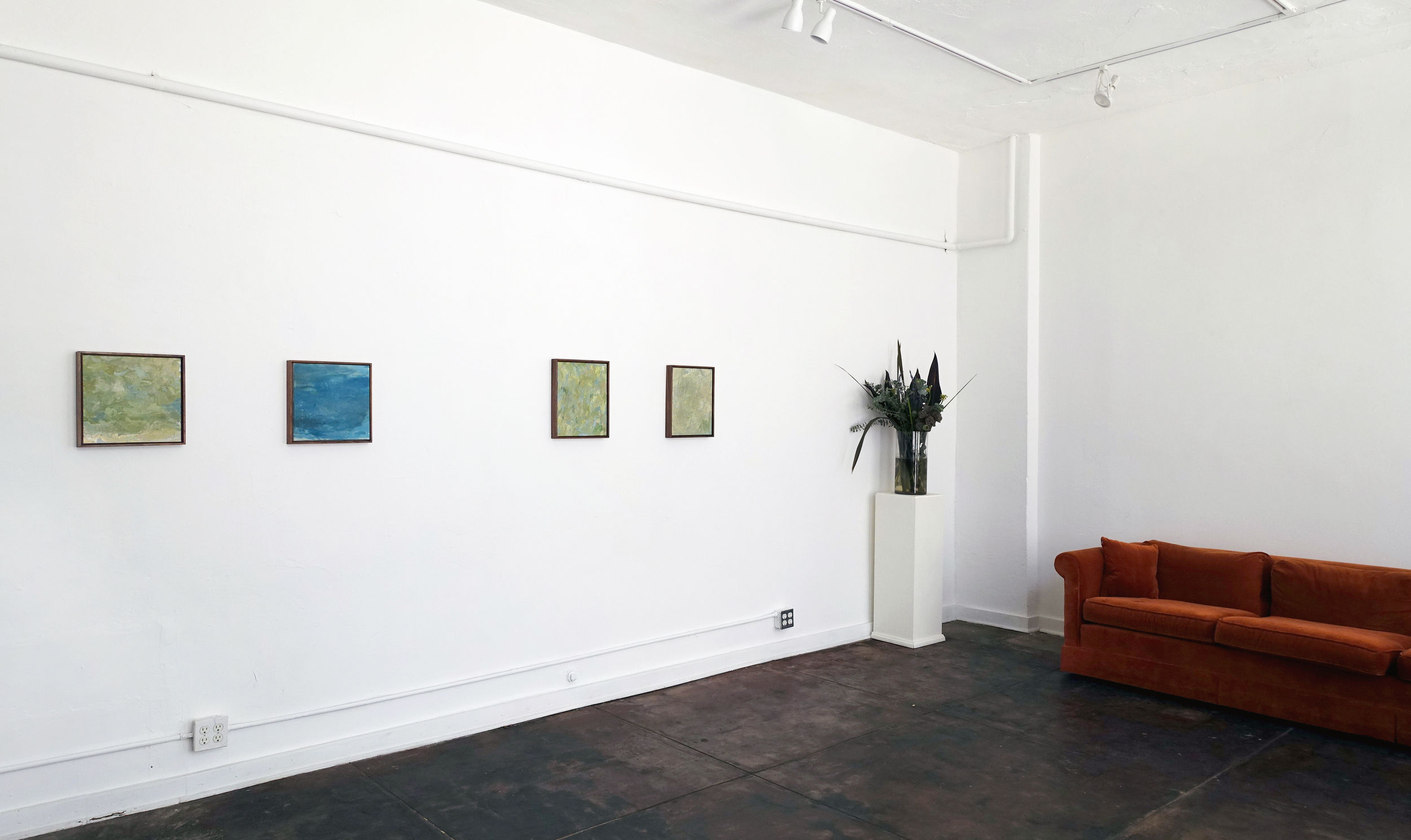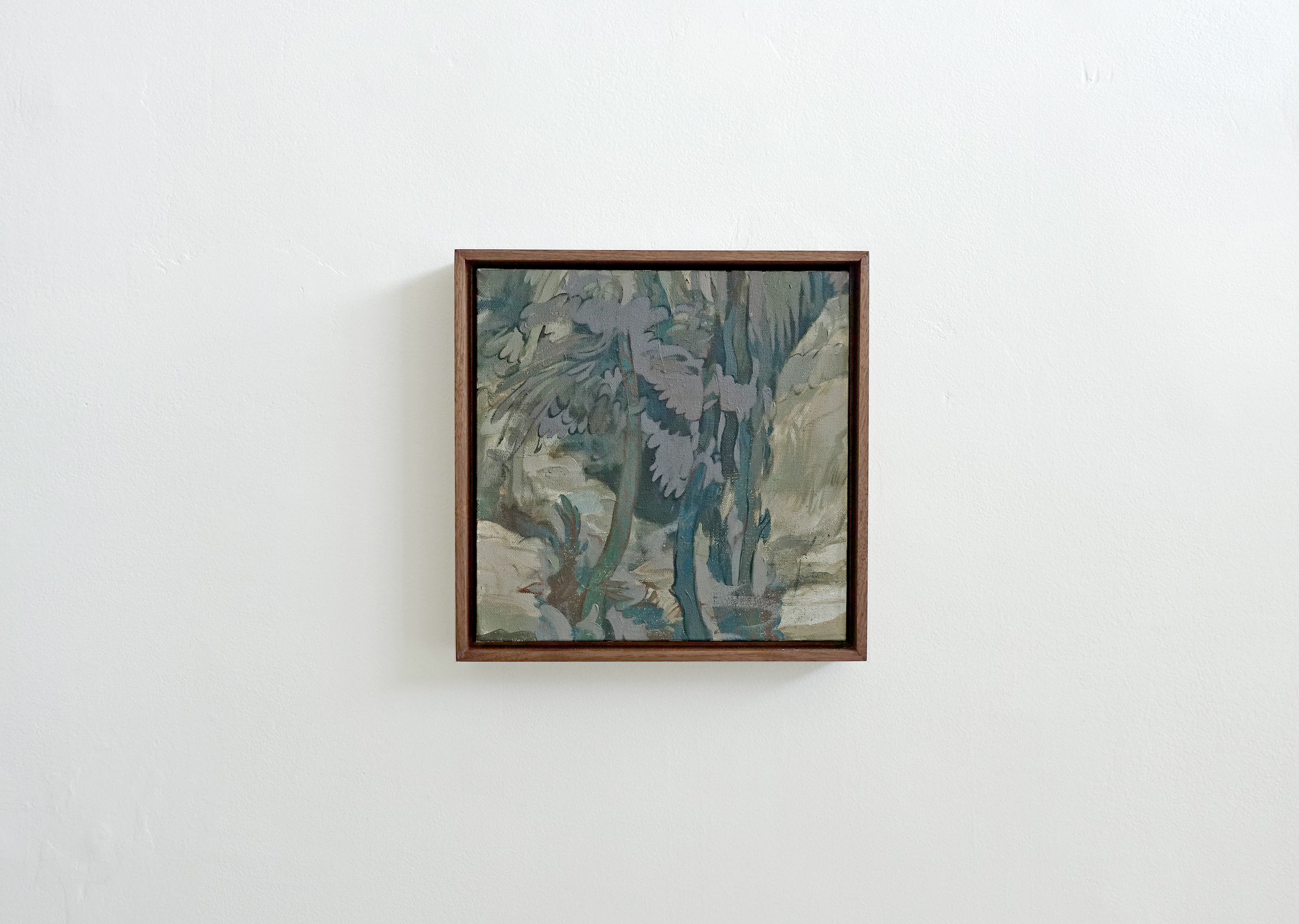 The LODGE Presents: Skylar Hughes, We're All Stone Raising
"We're All Stone Raising," is a body of work on being mindful of our contemporary experience by nodding to the art making process as an affirmation of it.
The work's basis in the landscape tradition and use of representational imagery serves as a ground for abstraction and suggestion, arriving in a place between these two formal approaches that allows the work to remain present as an open ended space in-and-of itself. Leafy and natural motifs signify both the permanence and temporality of nature's imprint. Mineral and stone, light and wind, branch and bone - a solid sphere that changes. The play upon these types of images through series and variation is not only an attempt at getting to a totality of vision that exclaims the all-encompassing grandness we exist within, but also points toward art making as a process of progression, one that results from and acts as an acknowledgement of that grasp and being attuned to the present as a point on an ever changing line.
The frankness of their construction reveals how they were made; this and then that, layer upon layer as work over the course of time. The painterly process embodies the struggle of discovery, of seeking and toiling, of confronting and uncovering. Stone Raising serves as a marker of that occupation beyond painting, offering an opportunity to be mindful of that experience as something valuable in it's own right.
Skylar Hughes is an artist living and working in Los Angeles, CA. He earned a BFA from The Hartford Art School, CT in 2009. The artist's first major solo exhibition, "One Big Gust of Wind," was held at the New Britain Museum of American Art, CT in 2013. Skylar has participated in solo and group shows in CT, NY, and CA and has work in numerous public and private collections. "We're All Stone Raising," is the artist's first showing with The LODGE.
CV
Skylar Hughes
Born in Hartford, CT 1986
Lives and works in Los Angeles, CA
EDUCATION
2009 - Hartford Art School, University of Hartford, CT - BFA, Magna Cum Laude
2007 - UGA Studies Abroad Program, Cortona, Italy
SOLO EXHIBITIONS
2016 - We're All Stone Raising, The Lodge, Los Angeles, CA (Forthcoming)
2015 - Another Wave or Wind to Blow, Alias Books East, Los Angeles, CA
Permanent Installation, Sotto Restaurant, Los Angeles, CA
2013 - One Big Gust of Wind, New Britain Museum of American Art, CT
SELECTED GROUP EXHIBITIONS
2015 - Strangers Forming a Group Waiting to Kiss, Curated Group Show by Ssaalonn,
BK Motel, Brooklyn, NY
Collaborative Installation with Jacqueline Suskin, The Standard Box, Hollywood, CA
The Series, Group Performance and Printed Matter, Ace Hotel Downtown LA, CA
2014 - Barnsdall Art Center, Member's Exhibition, Los Angeles, CA
2012 - Billings Forge Community Works Project, Fundraiser Exhibition, Hartford, CT
2010 - 41st Annual Curated Member's Exhibition (2nd Prize), New Britain Museum of American
Art, CT
Art @ Work, Greater Hartford Arts Council, Hartford, CT
2009 - 40th Annual Curated Member's Exhibition, New Britain Museum of American Art, CT
Ridgefield Guild of Artists Annual Juried Exhibition, Ridgefield, CT
Alexander A. Goldfarb Annual Juried Exhibition ('06-'09), Joseloff Gallery, Hartford, CT
Manchester Community College Juried Exhibition, Manchester, CT
Department Thesis Exhibition, Hartford Art School, Silpe Gallery, West Hartford, CT
2007 - Mostra, Student and Faculty Exhibition, Cortona, Italy
Hughes Family Show, Downright Music and Art, Collinsville, CT
AWARDS/SCHOLARSHIP
2010 - Greater Hartford Arts Council Grant Recipient
2009 - President's List, University of Hartford
High Honors, Dean's List, Artistic Merit Scholarship ('05 - '09)
Helen Kreible Artistic Merit Scholarship ('06 - '09)
RESIDENCY
2010 - Billings Forge Community Works Program, Artist and Instructor in Residence, Hartford,
CT