TIMOTHY ISHAM | RAYMOND J. BARRY
A Dual Exhibition
13 APRIL - 11 MAY, 2019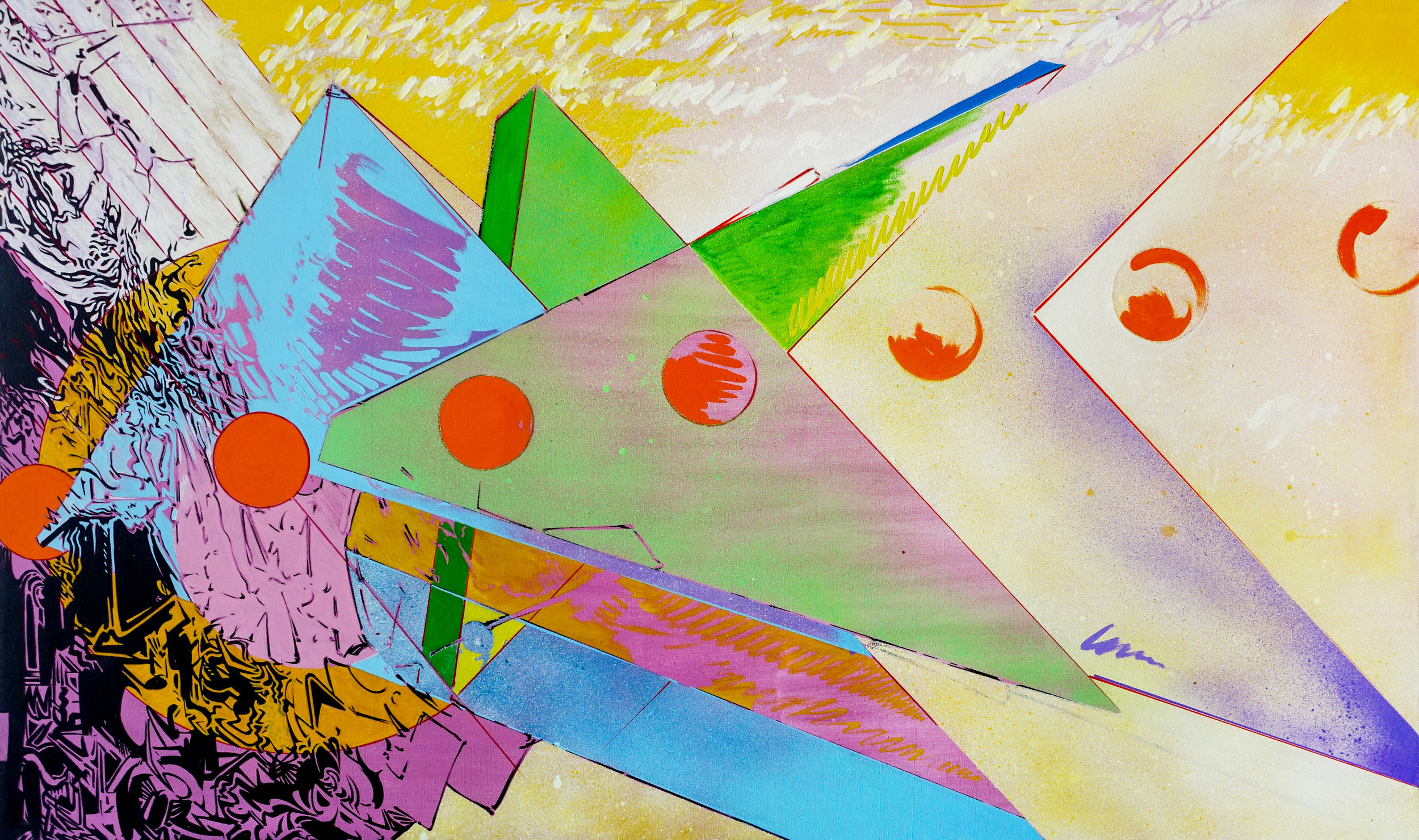 PRESS RELEASE
The Lodge is pleased to present a dual exhibition with works by Raymond J. Barry, curated by Shane Guffogg, and works by Timothy Isham, on view through 13 April - 11 May, 2019.
Please join us for an Opening Reception on Saturday, 13 April, 6-9pm.
TIMOTHY ISHAM: NEW, OLD PAINTINGS
New, Old Paintings is a selection of works from Isham's career, painted between the 1990s to the early 2000s. As a painter, in unison with his career as a master printer and conservator, the works exhibited in New, Old Paintings survey a technique of the subconscious and actualized divided body and mind. Referencing his awareness of "the myth of the artist", and himself, Isham notes inspiration from those mechanics situated in the challenges of multi-structural control; juxtapositions and moments of delicately lined geometries, to rigidity abstracted and abandoned.
(Biographical Excerpt) Having mastered lithography under the training of Tamarind printer Bob Evermon at Long Beach, Timothy was brought into the printmaking/publishing studio Gemini G.E.L IN 1969. There, as a lithographer and later curator, he collaborated with and printed editions for many of the great artists of the day, including Stella, Johns, Rauschenberg, Kelly, Lichtenstein, Motherwell, Guston, Hockney, Nauman. [Read Full Text]
RAYMOND J. BARRY: BUTTERFLIES, WORDS, AND COLORS
CURATED BY SHANE GUFFOGG
Raymond J. Barry is best known as an actor, but when he is not on a movie or TV set, he is in his studio, painting and writing. For Barry, the written word is a transfusion of thought that often manifests as a two or three person play, touching both sides of a theatrical realm; one part performance art, one part theater. These same words also find their way onto the brightly colored canvases that line Barry's Hollywood studio. The loop of a J or the curves of an S become the departure point for abstraction that flutters within line, form, and color. Color is the key ingredient – Barry's canvases are drenched in primary and secondary colors, all singing in unison like a well-oiled theatrical performance. Barry takes one of his journals (of which there are hundreds), and randomly picks a page. Then he projects a handful of words on to a canvas. The words are then traced, but now their true meaning or purpose has been taken away, leaving only remnants of thoughts and memories, utterances that hint at a source of conversation. The letters become spaces to fill with intense colors, essentially camouflaging them. Other parts are made up of diagonal lines that hint at doorways or window panes, creating an internal structure. Colored dots are painted throughout like a daisy chain, bringing to mind Aboriginal art that depicts an abstraction of time and space, or within the context of Barry's paintings, thought bubbles with indecipherable conversations. There is often one last element; a large butterfly whose colors and shapes are perfectly camouflaged as it flies over this world of abstracted beauty. [Read Full Text]
Shane Guffogg
(Curator)
February 2019